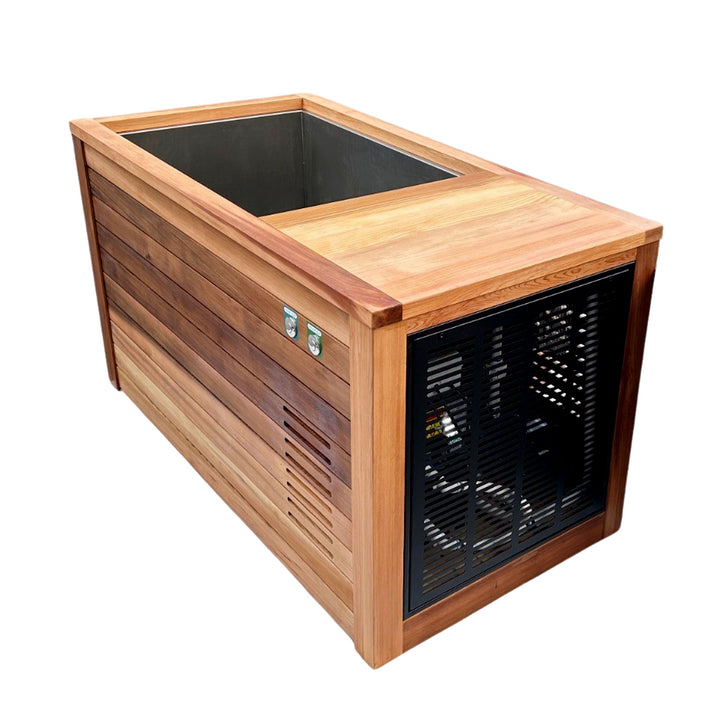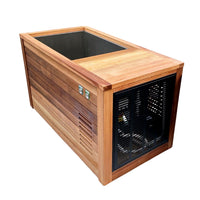 Ice Bath Oasis Cedar Cold Plunge Tub – 63" Compact With Step
$9,999
$11,999.00
Regular price
Imagine a transformation to an invincible version of yourself, resilient to stress, fatigue, and illness. This is the Oasis Cold Plunge. 
Picture emerging from our Ice Oasis Cold Plunge Tub with a newfound vigor, your body humming with vitality and your mind at perfect clarity. This isn't just about post-workout recovery or enhanced circulation; it's a ticket to transcending your limits and achieving peak wellness.
Let's face it; those big-name brands have been having a field day charging you the price of a small car for their fancy plunge tubs. But hey, we figured we could do one better - same top-notch quality, same luxurious experience, just without emptying your bank account. 
Constructed with dashing Western Red cedar and the shiniest of stainless steel, our tub is like the James Bond of wellness products – smooth, stylish, and ready for action, indoors or outdoors.
Our compact cold plunge is the brainchild of some serious research, customer chit-chats, and a good hard look at the market. We've packed all the luxury and functionality you've been dreaming of into a pint-sized, pocket-friendly package.
Here's the kicker - apart from making you feel like a million bucks, this tub is a wellness powerhouse. Post-workout recovery, improved circulation, mood boosts, immune system pep-up - this tub does it all. It's like your personal wellness superhero, ready to swoop in and save the day.
We're crowdfunding this icy delight, and that's where you come in. With your support, we're not just selling a product; we're building a community of chill-seekers who value top-notch wellness without the scary price tag.
And we're so sure you'll love it, we're offering an unprecedented 100% Satisfaction Guarantee. If you're not totally amazed by your transformation within the first 90 days, just let us know, and we'll refund you every penny. But we're not stopping there; our tub comes with a 2-year warranty. 
Ready to dip your toes into the Ice Oasis? Join us on this frosty adventure. Once your order is in, it'll be 8 weeks for delivery of your cold plunge.
Specifications
Tank dimensions: 36" L x 25.6" W x 30" H
External dimensions: 63" L x 32" W x 33" H
Call or text us at 970-457-6888 for product customization inquiries such as color and configuration
Pizza ovens and trailers do incur shipping charges and are estimated based on delivery zip code.