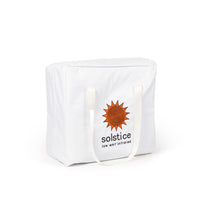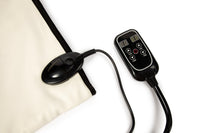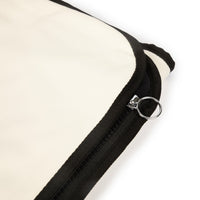 Infrared Sauna Blanket – Solstice Low EMF
$599
$699.00
Regular price
Unlock the rejuvenating powers of ancient heat therapy right in the comfort of your home with our Solstice Low EMF Infrared Sauna Blanket.
Designed for easy and efficient use, our infrared sauna blanket is a simple yet effective tool to help enhance your overall health and well-being. Wrapped in the warm embrace of the Solstice blanket, you can experience myriad benefits—from improved sleep and mood, detoxification and weight loss, to heightened cardiovascular function—without ever setting foot in a traditional sauna.
The Solstice blanket enables these benefits, including boosted metabolism, reduced stress levels, stimulated growth hormone output, and even improved DNA repair. All this, while simply lying down and immersing in the blanket's gentle heat.
Features:
Easy-to-use: No need for strenuous exercise or complicated routines. Just wrap the blanket around your body, relax, and let the heat do the work.

Safe and Comfortable: Designed with user safety in mind, we recommend wearing clothes while using the blanket to protect your skin.

Low EMF Technology: Our blanket utilizes low EMF (Electromagnetic Field) technology to deliver all the advantages of heat therapy without unnecessary exposure to electromagnetic radiation.

Quality Construction: Made from premium materials, the SolarFit blanket is durable and designed to last with a heavy duty zipper enclosure, offering consistent performance over time.

Portable and Convenient: Unlike traditional saunas, the SolarFit blanket can be used anywhere, anytime—making your wellness routine more flexible and adaptable to your lifestyle.
We developed the Solstice sauna blanket to be the hottest on the market, reaching a high temperature of 176 degrees for maximum effect. 
Embrace the potential of heat therapy and invest in your health with the Solstice Low EMF Infrared Sauna Blanket. If you're not satisfied, simply return the blanket within thirty days, and we'll refund your money, no questions asked.
Discover the future of wellness. Order your Solstice Low EMF Infrared Sauna Blanket today.
Specifications
Size: 180 x 165 unfolded
Electrical Field: Low EMF
Max Temperature: 176 degrees
Wattage: 500 Watts
Voltage: 100-120 Volt
Time setting: 5 - 60 Minutes
Controller: Handheld with one heating zone
Call or text us at 970-457-6888 for product customization inquiries such as color and configuration
Certain large items incur shipping charges and these are estimated based on delivery zip code. If unclear, reach out via phone / chat.