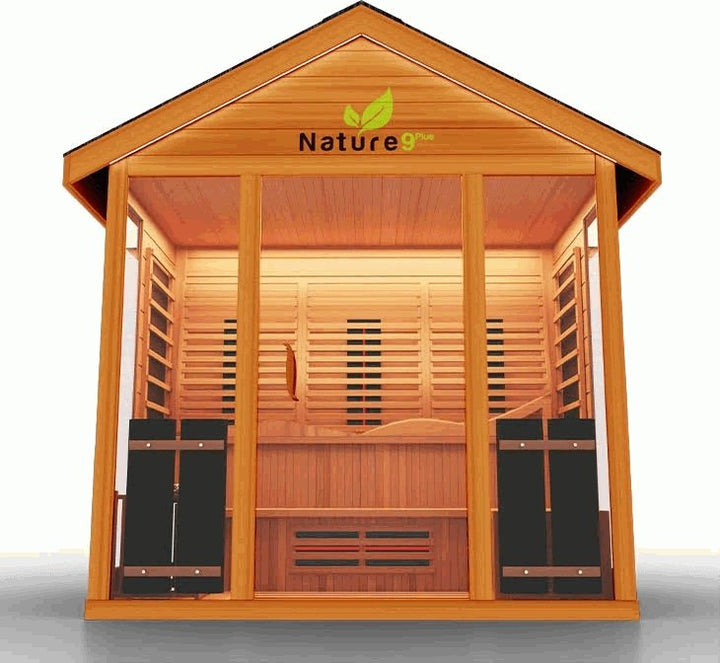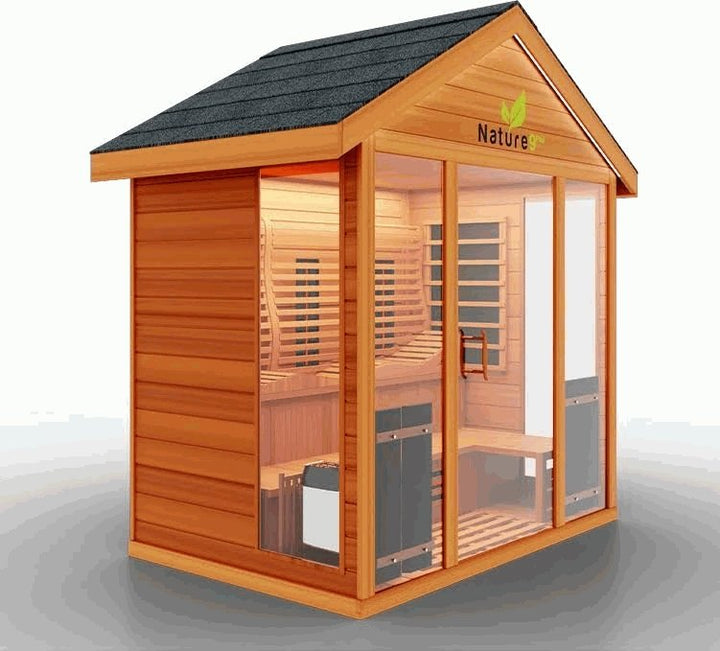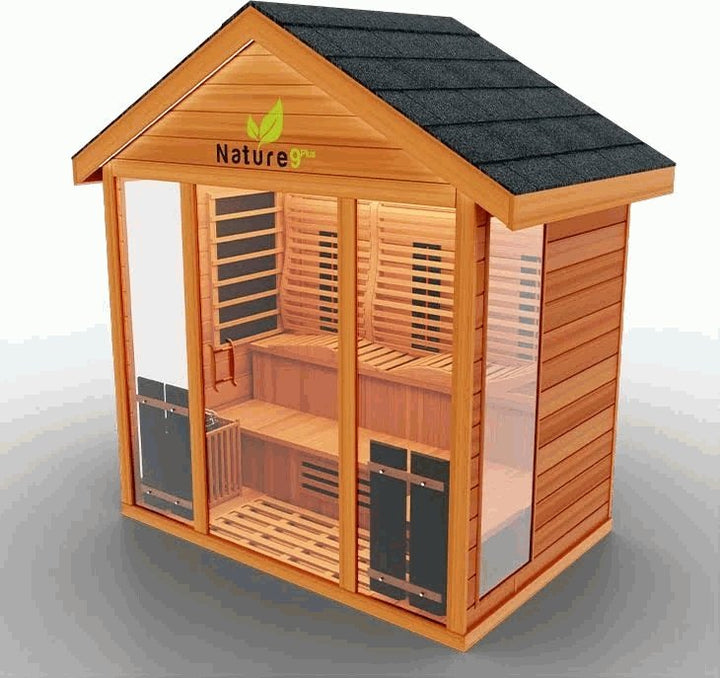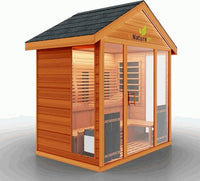 Medical Sauna Nature 9 Plus Outdoor Sauna Infrared Traditional Hybrid [3-6 Person]
The Nature 9 Plus hybrid sauna features an additional 9 inches more depth than the Nature 8. It merges the benefits of infrared and traditional sauna technologies, while being large enough to fit 3-6 people comfortably.
This makes it the perfect communal space for relaxation or an exceptional hot yoga room. With 9 more inches in depth and removable benches, this sauna is truly spacious.
Hot yoga in the 9 Plus isn't just possible, it's a game-changer. So why settle for a standard sauna session when you can bend it like Bikram in this spacious sauna.
Constructed from beautiful, natural Canadian Red Cedar, the Nature 9 Plus boasts both durability and aesthetic charm. The stunning wood not only brings a touch of nature into your backyard but also offers superior resistance to decay and insects, ensuring longevity.
Gaze out from your sauna through a tempered glass door, durable and safe, adding a touch of elegance to your sauna sessions. The interior dimensions of 74″ x 60″ x 78″ provide ample space to stretch out and relax, or even host a small yoga class.
Control your comfort easily using the LED control panel. With rapid internal heating and omnidirectional functionality, you'll experience warmth enveloping you from all directions, creating an immersive sauna environment. The sauna's operation is supported by a Dual Phase 220V-250V/30amp voltage, ensuring efficient and reliable performance.
The Nature 9 Plus is a real crowd-pleaser when it comes to entertainment. A built-in speaker system with Bluetooth, aux, and USB capabilities lets you listen to your favorite tunes or calming meditation tracks, enhancing your relaxation or workout routine.
The design prioritizes your comfort with ergonomic bench seating and backrests, fostering an environment of pure relaxation. These benches are also removable, providing you the versatility to clear space for yoga or other activities. A convenient roof vent allows for additional air circulation, maintaining the perfect balance of heat and humidity within the sauna.
The Nature 9 Plus delivers a sturdy and solid construction that can withstand the elements outdoors. The exterior dimensions are 78″ x 67″ x 97″, making it a statement piece for any garden or outdoor space.
The Nature 9 Plus isn't just a sauna; it's a sanctuary, a place to unwind and rejuvenate after a long day, offering multiple health benefits such as improved cardiovascular health, reduced muscle and joint pain, and enhanced skin health. Embrace the warmth, embrace wellness with the Medical Sauna Nature 9 Plus.
Shipping: This sauna ships free. Please allow 30 days for delivery of this item. 
Specifications
Full Spectrum Infrared Technology -

 

Medical Sauna's Full Spectrum heaters represent a revolution in sauna heater technology and can provide an invigorating session unlike anything you've ever experienced before. Most other infrared saunas only offer heaters that release infrared waves near one end of the spectrum, which means that the healing benefits from those sauna sessions are diminished. Our heating technology in our Medical Saunas offer a full spectrum of wavelengths: near, mid, and far infrared. A full spectrum heater is important because each spectrum of infrared waves provides different levels of skin penetration and light therapy. This means that you will get even more benefits in your sauna session and will truly start to feel more relaxed and healthier, each and every sauna session.
Protective Heater Cover -

 

At Medical Saunas we want to make sure that we thought of every possible feature that a customer needs, including the important safety features. A lot of companies don't provide covers over their heaters, which can get hot and become a hazard to the customer. With safety as a priority, Medical Saunas protective heater covers are made with the same wood as the sauna to keep the same aesthetic appeal.
Removable Bench -

 

Some saunas are harder to put together than others. A lot of the saunas from different companies don't have customizable features to help you get more comfortable with your sauna. Medical Saunas want you to be able to use your sauna in a way that perfectly tailors to your every need. The removable bench is perfect for obtaining more standing room as well as more room for movement while using your Medical Sauna.
Backrests Included -

 

Because sauna sessions sometimes include prolonged sitting, a backrest for your sauna is a must-have. Most companies that sell saunas don't sell backrests, and the companies that do, don't include them with your sauna. We don't believe in charging an extra fee for comfort. Our ergonomic backrest design suits anybody who is looking for back support and comfort while using a Medical Sauna, all at no extra cost to the customer. Each and every Ultra Full Spectrum Medical Sauna includes multiple backrests to accommodate any seat and user in the sauna.
Durable Natural Red Cedar Construction -

 

One problem that affects a lot of other saunas on the market is durability. When you first get your sauna, it may work fine, but after a few months of usage, it begins to lose heat. This is one of the most common problem that sauna owners face. Durability is a very important part of a perfect sauna because you want to be sure that your sauna can last well over 10 years of continuous use. What's the point of paying for a sauna that doesn't last at least 10 years? Because we design our saunas from scratch, we could have created our sauna out of any type of material we wanted, but after years of research, we decided to use natural Natural Red Cedar for its medicinal and structural qualities. Natural Red Cedar hardens as it ages, meaning our saunas can actually get more durable the longer your own one. Natural Red Cedar is also known for its astringent properties, meaning it helps cleanse your skin, which enhances the already powerful detoxification benefits of Medical Saunas™. When you step into our Natural Red Cedar saunas you will feel and smell the powerful natural wood aromas, leaving your skin feeling tightened and refreshed.
Rapid Internal Heating System -

 

Our Medical Saunas™ with our Rapid Internal Heating System™ can be fully heated in as little as 40 minutes - far surpassing all of our competitors, who average 90 minutes to 2 hours to pre-heat! So you spend more time inside the sauna, and less money on energy bills. Our powerful heating system allows you to be in your sauna immediately when you need it most.
Insulated Airflow System -

 

For too long, sauna users have experienced unwanted temperature fluctuations in poorly designed saunas, resulting in less healing and higher energy bills. The insulation of a sauna is just as important as the heating system because it allows the temperature inside to remain constant. We have developed a design that works with our heating system, and uses the temperature inside the sauna to keep your sauna at a constant temperature. This means you can keep your sauna at the right temperature with less effort, and receive the maximum health benefits from our Medical Sauna™.
3D Heat Therapy -

 

Medical Sauna™ is the first and only sauna on the market to offer 3D Heat Therapy™. Heat therapy has many benefits for your body including improving sore muscles, increasing range of motion, decreasing muscle spasms, and reducing pain. The 3D Heat Therapy™ works by penetrating deep into the body's tissue and cells as temperature rises, which leads to therapeutic benefits all over your body. This improved version of heat therapy, found only in a Medical Sauna™, will rejuvenate your body from the inside out.
Safe Cool Down System -

 

No other sauna on the market has engineered an airflow system that creates a safer and efficient cool down stage to complete your sauna experience. An important health practice to follow when using a sauna is allowing your body to cool down gradually as you finish your session. Medical Sauna™ has aided your cool down stage, as its design allows hot air to escape slowly from the sauna. This cools down your body at the recommended pace, and prevents possible health complications from changing temperatures too quickly. As a very vital process for a sauna owner, we felt it was necessary to design a cool down system in our saunas that will keep you safe.
Skin Rejuvenation/Cleansing System -

 

Only Medical Sauna's™ heating technology can cover every square inch of your body and leave your skin feeling soft, fresh, and new. This is because of the Natural Red cedar wood used in the Medical Sauna Series™ and our powerful heating system. These two features remove dead skin cells from your body, allowing your pores to open wider, which results in increased blood circulation near the surface of your body, healing your skin. After just one session in a Medical Saunas™ your skin will feel younger and refreshed. Medical Saunas™ are more than just relaxation tools because they were designed to help heal your body. Because of all the doctors that came together to help design and engineer the Medical Sauna™ and their 100+ years of combined experience, there are lots of medical benefits you can receive by using it daily.
Capacity: 3-6 People
Interior Dimensions: 

(WDH): 75″ x 69″ x 78″

Exterior Dimensions: (WDH): 80″ x 73″ x 97″

Operating Voltage: 

 

Dual Phase 220V-250V/30amp

Watts: Spectrum 3500W/Stove 6000 Watts

Full Spectrum Heaters: 15
Construction: Cedar
Tempered Glass Door
Bluetooth/AUX/USB Speakers
Plug Type: NEMA L6-30
Weight: 695lbs
Call or text us at 970-457-6888 for product customization inquiries such as color and configuration
Certain large items incur shipping charges and these are estimated based on delivery zip code. If unclear, reach out via phone / chat.