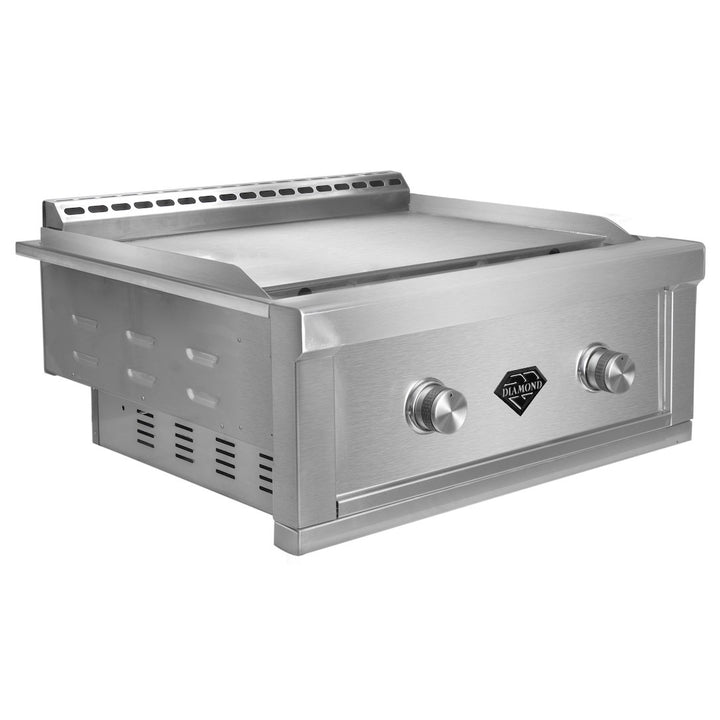 30" Diamond Grills Outdoor Griddle Built In - (NG) Natural Gas Stainless Steel From Diamond Grills
$2,936
$3,509.00
Regular price
Introducing the 30" Outdoor Griddle, new from Diamond Grills – this is the ultimate solution for outdoor cooking enthusiasts seeking a versatile, high-performance griddle that can effortlessly prepare delicious meals for any occasion. This drop-in griddle is quickly becoming the best seller among The Outdoor Plus built-in outdoor kitchen products, and it's easy to see why.
Boasting a spacious, even-heating surface, the 30" Outdoor Griddle allows you to cook breakfast, lunch, and dinner for the entire family or a group of friends with ease. Its precision temperature control ensures that every dish is cooked to perfection, whether you're whipping up stacks of fluffy pancakes, sizzling bacon, or juicy burgers.
Constructed with durability and convenience in mind, the Diamond Griddle features a robust, easy-to-clean design that makes maintenance a breeze. The high-quality materials and superior craftsmanship ensure that your griddle will remain a staple in your outdoor kitchen for years to come.
If you're looking for a full outdoor kitchen kit, take a look at our bundles and choose from our premium package option complete with the 36" built in grill, outdoor griddle, side burner, and all the possible storage options. 
Or opt for our most popular outdoor kitchen it (No.3), which is a slightly pared down version featuring the 36" grill, outdoor griddle add-on, plus two storage areas integrated in a ready-to-finish system. 
Specifications
30" Diamond Griddle Spec Sheet
SKU: DG-G30-NG
Call or text us at 970-457-6888 for product customization inquiries such as color and configuration
Certain large items incur shipping charges and these are estimated based on delivery zip code. If unclear, reach out via phone / chat.