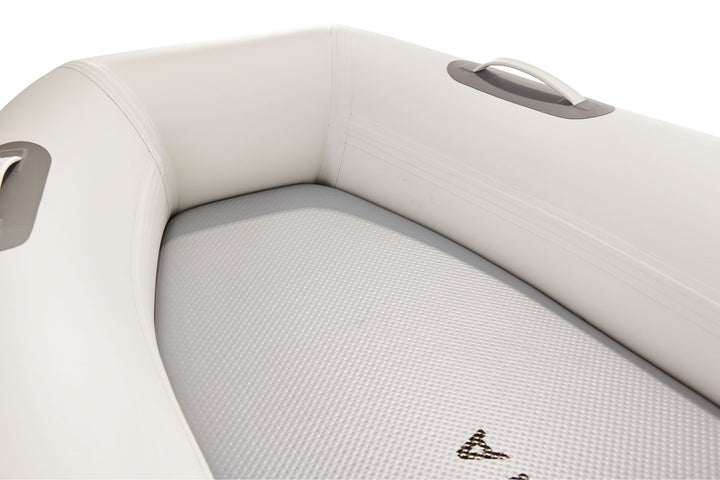 Aqua Marina - Deluxe U-Type Yacht 2.5m w/DWF Air Deck
 Featuring U-type bow and DWF air deck, the new DELUXE series is more complicated in construction and production. And our 20 years of experience in inflatable watercrafts is just the guarantee of our professionalism in making this series of the highest quality.
The new DELUXE boats are extremely light but unexpectedly rigid, owing to Aqua Marina's signature High Frequency Welding Technology and Drop Stitch Light Technology applied on the floor.
With highly improved capacity, the new DELUXE could be loaded up with all your gear. Foldable, portable and loadable. Just pack it away and make it your favorite tender!
SPECIFICATIONS
MODEL: U-DELUXE 8'2″
PRODUCT: BT-UD250
SIZE: 8'2″ x 55″ / 250 x 140cm
FLOOR TYPE: DWF Air
AIR PRESSURE: 0.25 bar hull, 1.0 bar floor
AIR CHAMBERS: 3 + 1
MAX. PASSSENGERS: 2 + 1
MAX. PAYLOAD: 616lbs / 280kg
TRANSOM HEIGHT: 15″ (38.1cm)
MOTOR POWER: 3.7KW / 5HP
NET WEIGHT: 55.1lbs / 25kg
CONTAINS: Wooden bench seat, Double Action Pump Liquid Air V1, pair of aluminum oars, carry bag, repair kit.
Call or text us at 970-457-6888 for product customization inquiries such as color and configuration
Certain large items incur shipping charges and these are estimated based on delivery zip code. If unclear, reach out via phone / chat.