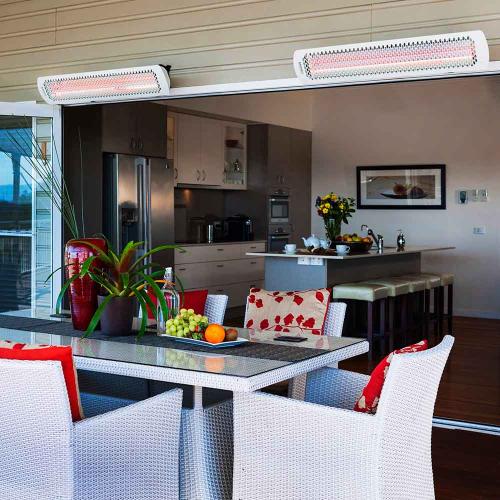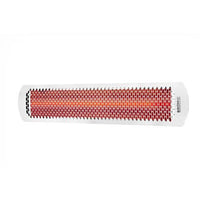 Bromic Heating Tungsten Smart-Heat 56-Inch 6000W 240V Electric Patio Heater - White
Bromic Heating leads the industry in supplying your outdoor patio with radiant heaters that demonstrate outstanding performance and unbeatable quality. The Bromic Heating (BH0420033) Tungsten Smart-Heat 56-inch electric patio heater stands out against standard patio heaters since it is equipped with a spectral reflector for distributing 6,000 Watts of radiant heat evenly and heat areas up to 160 square feet. The infrared heating element tubes are frosted to reduce the harsh glare, producing a warm, attractive amber glow. The Bromic Heating BH0420033 Tungsten Smart-Heat infrared electric patio heater can be wall or ceiling-mounted (requires recess kit for flush mounting) and wired into smart system controls to fit custom heating preferences. Wall and ceiling mounting options allow you to easily adjust the flow of heat for better, custom directional heating. The heater has a corrosion-resistant, high-temperature coating, and a tamper-proof electrical wiring enclosure to help extend its life and quality. Bromic Heating Tungsten electric heaters are perfect for both commercial and residential installations. This heater uses 240V AC current and must be hard-wired by a licensed electrician. Please consult a licensed electrician to determine suitability for purpose.
Overall Dimensions: 56" Wide x 8 1/2" High x 3 1/2" Deep
Info & Guides
Brand: Bromic Heating
Collection: Tungsten Smart-Heat Electric
Color: White
Configuration: Wall/Ceiling Mount
Fuel Type: Electric
Item Type: Wall Mount Patio Heaters
Parent Category: Patio Heaters
Size: 56 Inches
Voltage: 240V
Wattage: 6000W
Call or text us at 970-457-6888 for product customization inquiries such as color and configuration
Certain large items incur shipping charges and these are estimated based on delivery zip code. If unclear, reach out via phone / chat.