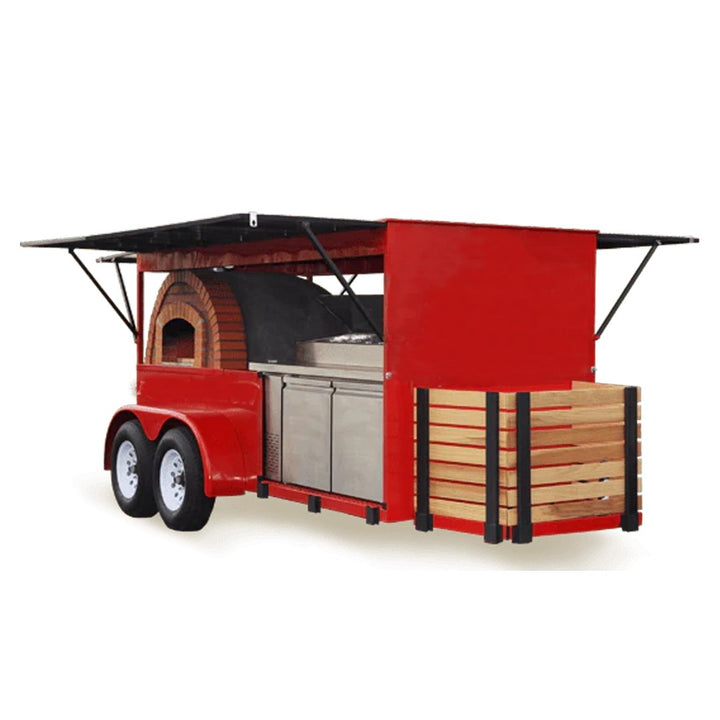 Californo 15' Work Around Open Pizza Oven Trailer
Introducing the Californo Open Work Around Pizza Oven Trailer - The Ultimate Mobile Culinary Experience!
This thoughtfully designed and fully customizable pizza oven trailer is equipped to handle all of your artisanal pizza-making needs. Each Californo trailer is built to cater to your specific requirements, ensuring that your mobile culinary adventure is as unique as your pizza creations.
Our Open Work Around Pizza Oven Trailer features an array of high-quality equipment designed to make your pizza crafting process seamless and enjoyable:
Ample Refrigeration Space: The trailer is equipped with an Avantco APPT-71-HC 71" 2-door refrigerator, providing plenty of storage to keep your fresh ingredients perfectly chilled and at arm's length. This guarantees the freshness and quality of your pizzas, no matter where your journey takes you.
Convenient Topping Container: Never compromise on the variety and quality of your toppings. The trailer includes a topping container to keep your signature pizza toppings fresh, organized, and ready for use.
Commercial Grade Sink: Our trailer features a Regency 60" 16-Gauge Stainless Steel Three Compartment Commercial Sink. This sink, with its robust galvanized steel legs, offers you the space and durability to manage all your cleaning needs effectively.
Hand Sink with Gooseneck Faucet: For added convenience, we've included a Regency 12" x 16" Wall Mounted Hand Sink with Gooseneck Faucet and Side Splash. This dedicated handwashing station is a critical feature to ensure hygiene standards are maintained at all times.
All-Around Concession Windows: Engage with your customers and let them experience the art of pizza making. The trailer is designed with concession windows all around, allowing your customers to witness the magic happening inside while providing excellent ventilation.
Verona 420 Stucco Wood Fired Pizza Oven: Our largest mobile pizza oven configuration and also the best selling option. The version pictured is stucco, but you can also order as a custom mosaic tile. 

Remember, every Californo trailer is fully customizable. Want something done differently? No problem! We're here to tailor your pizza oven trailer to your exact specifications. Whether it's the layout or the equipment, we will work with you to create a trailer that's perfectly suited to your business.
Experience the joy of crafting and serving delicious pizzas anywhere, anytime with our Californo Open Work Around Pizza Oven Trailer. Enjoy the freedom and flexibility of taking your passion for pizza on the road, while delivering an unforgettable culinary experience for your customers. Let Californo help you bring your dream mobile pizzeria to life.
Call or text us at 970-457-6888 for product customization inquiries such as color and configuration
Certain large items incur shipping charges and these are estimated based on delivery zip code. If unclear, reach out via phone / chat.