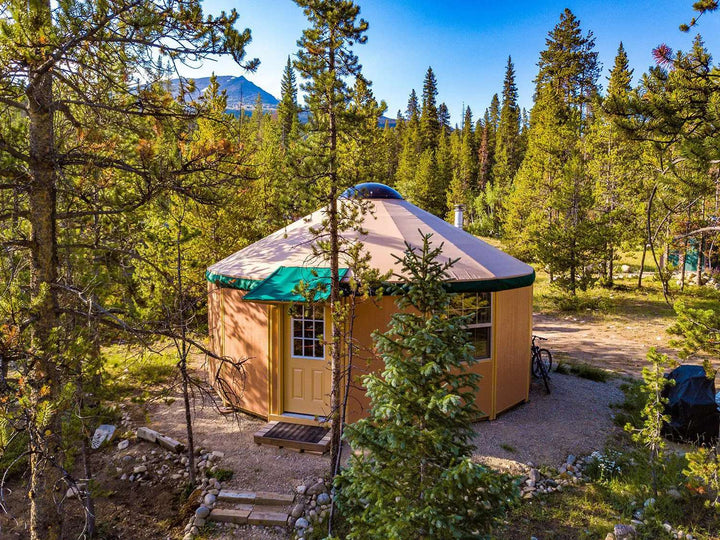 12 Wall Luxury Yurt-Cabin Kit with Solid Walls by Freedom Yurt-Cabins
The only luxury yurt-cabin system with solid walls and an integrated platform. 
Go from kit to cabin in 3 days with this extremely DIY-friendly yurt-cabin kit from Freedom Yurt.
With solid walls, an integrated flooring system, real insulation, house windows, round wood frame and rafters, and a wood ceiling with a tongue and groove look, this Yurt-Cabin has a distinctive log cabin feel. It is engineered for strength and longevity, and assembly is easy with the Yurt-Cabin's built-in floor system and bolt-together design.

Small but mighty, the 12-Wall Yurt-Cabin is an ideal addition to your backyard as a home office or extra room for a mother-in-law suite or granny flat. Earn easy passive income by renting out this model as an Airbnb.
Also, due to its compact design, the 12-Wall Yurt-Cabin has the highest snow load capabilities of all of the models, making it ideal for a backcountry hut or ski resort rental shop.
Safety, Stability, And Liveability In One Easy Yurt Kit.
What are the advantages of a solid-walled yurt? These yurts offer a unique living situation for those who want the safety and comfort of a home with the energy and feel of a Yurt. Freedom Yurt-Cabins is the only solid-walled Yurt-Cabin in the world. There are many differences between wood and fabric yurts that you should be aware of. Here are some of the most important differences.
1. Structural Integrity
Engineered to blend wooden yurt aesthetics with home-like solidity. Meets various regional codes, suitable for hurricane-prone areas and harsh Northern territories.
2. Integrated Platform System
Anchors into the earth with simple paver blocks. The riser system allows for leveling and anchoring, saving the customer money. This standard feature is often an upgrade with competitors.
3. 
 

Insulation and Weather Ratings

Standard 9.7 R Value, upgradable to 15.4; 115 mph wind rating; individual snow load ratings, upgradeable roof rafter size. Durolast roof cover with a 15-year warranty.

 
4. Adaptation to Different Climates
Suitable for diverse climates like the sub-tropics of Chile or the cold Northern Territories. Upgrades for insulation and wind/snow load customization are available.
5. Zoning Flexibility
Classified as either a permanent or temporary structure, with four-season capabilities. Can be disassembled and relocated, easing zoning difficulties.
6. Insulation and Climate Control Options

Offers insulation upgrades for walls and floors. Customers can control cabin climate, with options like wall-air-conditioning units and wood-burning stoves, for a home-like comfort wherever you are located.
7. Resilience Against Animal Attacks
One bear has already tried to attack a Freedom Yurt. Let's just say the bear left with nothing but a sense of failure. Rest easy, the wildlife's not RSVPing to your dinner party.
Optional Upgrades
Extra Window: $650/ea (5 windows max)

Upgrade Existing Window to Egress Window (10″ lower): $180

Extra Door with Awning: $980

Screen Door or Storm Door: $360

Tinted Dome: $200

Bug Screen: $150

Fan Mount: $75

Foam Wall Insulation Upgrade: $180

Floor Insulation Kit (without insulation): $1,650

4″ Rafter Upgrade (increases snow load): $975

Packing Charge (required): $300

Custom Color Option: $800
Colorways
Specifications
Area – 217 sq. ft.


Diameter – 16′ 7-1/2″

Windows – 2

Roof dome – 4' diameter

Peak ceiling height- 10' 10 ½"
Included in Standard Kit:
Universal Wall Height of (7' 4")

Two (2) Simonton Double-pane, Glass, Low-E Windows

Heavy Duty DuroLast® Roof Cover

Snow and Wind Kit (120mph wind rating)

Wall Insulation (r-9.7)

Roof Insulation (r-13.7)

360° Dome Lifter

Sunbrella® Valance and Awning
Call or text us at 970-457-6888 for product customization inquiries such as color and configuration
Certain large items incur shipping charges and these are estimated based on delivery zip code. If unclear, reach out via phone / chat.