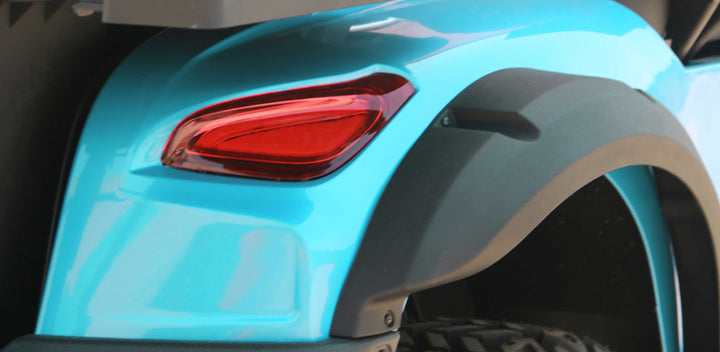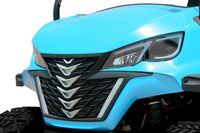 4 Seater Golf Cart Off Road 72v Lithium Electric LSV with LED Lights
Our 4 seater luxury golf cart LSV is built for power and comfort.
Nestled under the hood of this exceptional street legal ride, a powerful 72v lithium-ion battery is at work. Its high voltage charges your cart, rocketing it to exhilarating speeds (up to 31mph) for a range of about 40 miles.
Where else can you choose not only the exterior color of your cart, but the color for the roof, and seats as well? We custom build your cart to order with these and more options included.
Worried about navigating at dusk? Don't be. LED lights slice through the darkness, casting a radiant glow over your path. Your journey will be smooth, seamless, and effortless, thanks to the standard 12-inch aluminum rims.

Did we mention all of our carts come standard with a fully waterproof built-in 10.1" multimedia display and integrated reverse camera? Speed, temperature, mileage, battery life, and entertainment at your fingertips. Includes Apple CarPlay, bluetooth, or USB playback on two high-quality cabin speakers. 


When it comes to luxury and performance, we believe in going the extra mile. That's why all our golf carts are fully equipped with LSV (Low-Speed Vehicle) features and powered by lithium batteries standard. Here's why this matters:


Unmatched Versatility 🔄
Our LSV features mean your golf cart is not just confined to the golf course. It's street legal, allowing you to take short trips around your community or estate. It's not just a golf cart; it's your second car. Even if the current rules change in your area you're covered .


Energy Efficiency 🍃
Lithium batteries are known for their energy efficiency, allowing you to get the most out of every charge. This translates to longer rides, more power, and less frequent charging, giving you more time to enjoy your cart.




Safety First 🛑
LSV features include essential safety components like seat belts, rearview mirrors, visible blinkers, and high/low beam headlights.


Future-Proof Your Ride 🛡️
As regulations around golf carts and LSVs continue to evolve, having a cart that already meets LSV standards ensures you're investing in a vehicle that is future-proof.


Is A Lithium LSV Golf Cart Right For Your Family? 
Offering unparalleled customization, safety features, and eco-friendly performance, our carts put you in the driver's seat of your leisure time. Whether it's a weekend on the greens or a neighborhood jaunt, it may be the only choice that lets you control your journey, every step of the way.
For those who are looking for more of an off-road ready look and capability, we offer a custom front brush guard that matches the design of the cart. 
Want to add a touch of personal flair as a business owner? We offer optional logo customization for commercial applications. Each golf cart is made to order, tailored to your specifications with a lead time of 8-12 weeks from order to your doorstep.
We custom build to your specifications and give you a number of different customization options for your exterior, seats, wheels, and roof.
Safety & Warranty
Safety is never an afterthought for us. Four wheel hydraulic disc brakes ensure precise stopping power, avoiding collisions and safeguarding your precious passengers. This cart is constructed to meet US DOT specs for LSVs and comes with all the necessary components to be street-legal in most jurisdictions. When it comes to warranty, we've got you covered with a full 5 year protection for the battery and a 2 year warranty for all other components. We've painstakingly vetted our suppliers to bring you nothing but the best, and we confidently stand behind our product, with all spare parts readily available.
In a marketplace crowded with subpar alternatives, we offer the discerning customer an 4-Seater Golf Cart that doesn't merely meet the standard, but sets it.


Are Lithium Golf Cart Batteries Worth It?
The Powerhouse of Golf Carts: Benefits of Lithium Batteries 🔋
When it comes to powering your golf cart, not all batteries are created equal. While traditional lead-acid batteries have been the go-to for years, lithium batteries are quickly becoming the preferred choice for modern golf cart owners. Here's why we only sell 6 seater golf carts with lithium batteries standard.


Longer Lifespan 🕒
Lithium batteries generally last much longer than their lead-acid counterparts. You can expect a lithium battery to last up to 10 years, which is almost double the lifespan of a typical lead-acid battery. This longevity makes lithium batteries a cost-effective choice in the long run.


Faster Charging ⚡
Nobody wants to wait around for their golf cart to charge. Lithium batteries boast a quicker charge time, often recharging fully in just 2-3 hours compared to the 8-10 hours needed for lead-acid batteries.


Lighter Weight, Better Performance 🏎️
Lithium batteries are significantly lighter than lead-acid batteries, which can improve your golf cart's performance. The reduced weight allows for better acceleration, easier handling, and even the possibility of adding more luxury accessories without worrying about overburdening your cart.


Eco-Friendly 🌱
Lithium batteries are more environmentally friendly than lead-acid batteries. They don't contain harmful materials like lead or acid, making them easier to recycle. Plus, their longer lifespan means fewer batteries end up in landfills.


Consistent Power Output 📊
Unlike lead-acid batteries, which lose voltage gradually as they discharge, lithium batteries maintain a consistent voltage level. This ensures that your golf cart performs at its best throughout the entire ride, not just when the battery is fully charged.


Low Maintenance 🛠️
Say goodbye to the regular maintenance that comes with lead-acid batteries. Lithium batteries are virtually maintenance-free, saving you both time and effort.


A Note Regarding Build Quality
We are working with an established supplier with 6 large factories and more than 15 years of experience building both on-road and off-road vehicles. They have a total of 42 production lines which enables us to manufacture almost every part of the golf cart. This effectively ensures the highest quality standards along with the lowest possible costs. In addition, our golf carts are produced with fully automated cathode electrophoresis  to ensure the best rust-proof coating among all competitors.
Details
Specifications
All LED, 2 headlights, 2 front turn signals, 2 taillights( each combined 1 brake light with 1 turn signal), with DC-DC converter (converting from 48V to 12V), horn.

Single-stage rack and pinion steering system, automatic rocker compensating function
Front Macpherson independent and rear plate spring + vibration absorber

Rear axle two-stage deceleration, motor direct driving
Comes standard with 12x7 aluminum wheel + 23" tire(23*10.5-12)
Top Speed: 31mph
Overall dimensions: 121 inches x 48 inches x 83 inches
Min. ground clearance: 6.69 inches
Wheelbase: 96 inches
Front-wheel tread: 38 inches
Rear wheel tread: 39 inches
Range: 40 miles
Curb weight: 1,250 lbs
Controller by Enpower
KDS AC 6.3KW Motor
The actual color of the cart may vary slightly due to lighting conditions during photography or display settings on your device. We strive to provide accurate representations, but please consider this when making your decision. Pantone is an international color coding system, if you are looking for something custom this is the best way to pick it. We send photos when the cart is complete. making your decision.
Options
14" Alloy Wheels
Receive our premium alloy wheel upgrade free for a limited time. Experience improved ride comfort and stability, increased ground clearance for navigating rough terrain, and greater rigidity for better handling. Click here to make your custom selections and we will match them to your order.
Off-Road Kit
Enhance your golf cart with a stylish black custom front grille brush guard. Elevate your ride with an 8" of ground clearance and improved shock absorption for a smoother, more versatile experience on various terrains.
Rain Enclosure
Experience all-weather comfort with our rain enclosure designed for golf carts. Enjoy uninterrupted play, protected from the elements, while maintaining full visibility of your surroundings. Our enclosure ensures you stay dry and comfortable, extending your golfing season and allowing you to make the most of your time on the course, regardless of the weather conditions.
Full Windshield w/ Wiper
It includes a full windshield and an automatic wiper for clear views in any weather. Enjoy an unobstructed ride, whether it's sunny or drizzling, with a clean windshield every time.
Golf Kit
It includes a cooler and sand bottles with convenient mounts, a ball washer, and a rear-mounted double bag holder. Stay refreshed with easy access to cold beverages during your round, keep your clubs clean with the ball washer, and efficiently carry multiple bags with the rear holder.
28" Soundbar - ECOXGEAR
This 28" Soundbar, combines amplified audio with an integrated LED light controller, boasts 1-inch titanium tweeters equipped with dual neodymium magnets, enhanced midrange and woofers, utilizes LEDCast technology for APP and RF remote management, and accommodates two external LED light zones, ensuring seamless compatibility with all LEDCast-enabled lighting products.
White Glove Delivery
White Glove Delivery not only delivers your cart fully assembled but also provides added benefits such as convenience, professional assembly, quality assurance, peace of mind, and immediate enjoyment, while standard delivery involves assembly of components.
Call or text us at 970-457-6888 for product customization inquiries such as color and configuration
Certain large items incur shipping charges and these are estimated based on delivery zip code. If unclear, reach out via phone / chat.