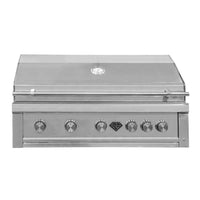 42" Diamond Grills Built In Grill - 5 Burner - (NG) Natural Gas Stainless Steel From Diamond Grills
$4,140
$4,950.00
Regular price
Introducing the new top-of-the-line 42" 5-burner built-in grill from Diamond Grills, expertly crafted to bring the power and performance of commercial-grade cooking to your backyard. Constructed with premium 304 stainless steel, this robust and elegant grill is designed to withstand the elements and provide lasting durability, ensuring you enjoy a superior grilling experience for years to come.
Featuring five stainless steel high-performance burners, this state-of-the-art built-in grill delivers unmatched heat control and even heat distribution, allowing you to cook with precision and consistency. With the integrated flame tame, the burners will never blow out. If one side shuts off, the other side will reignite. The spacious cooking surface provides ample room for grilling a variety of dishes simultaneously, making it perfect for hosting large gatherings or family meals.
Options are available such as the flat CNC grill grates or a small griddle layout. Features easy to replace lights, double wall construction, and a beautiful stainless steel handle. Warming rack for slow cooking that can be placed in two locations.
The double-walled hood with built-in temperature gauge effectively retains heat, while the stainless steel flame tamers and cooking grids ensure optimal heat distribution and exceptional sear marks for restaurant-quality results.
In addition to its impressive grilling capabilities, this 42" built in grill practical features designed to make your outdoor cooking experience as seamless as possible. The easy-to-clean grease management system simplifies maintenance, while the integrated LED control knobs and interior lighting allow for effortless operation, even during nighttime grilling sessions.
Last but not least, this line of grills is designed to accommodate interchangeable infrared burners. The ability to swap out traditional gas burners for powerful infrared burners allows you to customize your grilling experience and elevate your outdoor cooking to new levels of precision and efficiency. Us infrared burners for high-heat searing and quick cooking of meats, fish, and vegetables, while relying on the traditional gas burners for lower-temperature grilling and slow-cooking tasks.
If you're looking for a full outdoor kitchen kit, take a look at our bundles and choose from our premium package option complete with the 36" built in grill, outdoor griddle, side burner, and all the possible storage options. 
Or opt for our most popular outdoor kitchen it (No.3), which is a slightly pared down version featuring the 36" grill, outdoor griddle add-on, plus two storage areas integrated in a ready-to-finish system. 
Specifications
Call or text us at 970-457-6888 for product customization inquiries such as color and configuration
Certain large items incur shipping charges and these are estimated based on delivery zip code. If unclear, reach out via phone / chat.