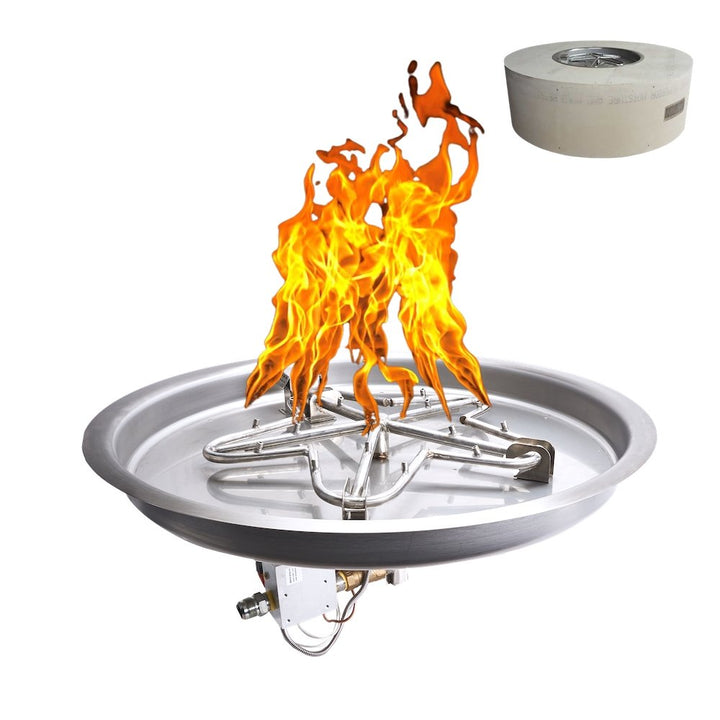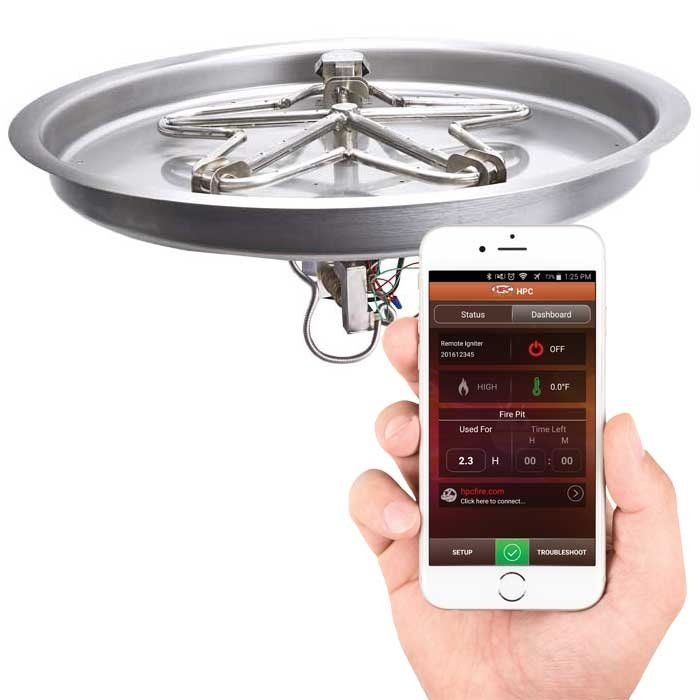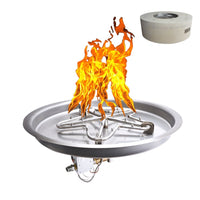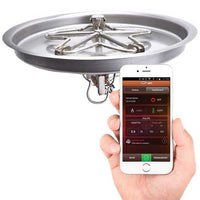 HPC Fire Torpedo Gas Fire Pit Burner Round Bowl Insert 120 VAC Bluetooth
This is the ultimate drop-in solution for your circular gas fire pit, the HPC Fire Round Bowl Insert with Torpedo burners and bluetooth app ignition is the true Cadillac of burner kits. 
These burners are manufactured by HPC Fire Inspired and made of the highest-quality 304 stainless steel. 
This patented welded stainless steel design drains water and won't rust. Covered by HPC's no-nonsense hassle-free lifetime warranty. 
 This
 CSA Certified (Except Non-Certified Category) Round Bowl Fire Pit Insert Series comes in [13″] [19″] [25″] [31″] [37"] and [43″] as a standard product.
This product listing features the new innovative Torpedo nozzles, which create a taller, more robust flame similar to that of a natural wood fire (see below) or on Youtube. For Round Bowl in a standard configuration, go here.
As for safety features, HPC Fire is known as the industry standard. Their burners include flame sensing technology, which automatically shuts off the gas supply if the flame is extinguished, and emergency gas shut-off valves for quick and easy gas shut-off in the event of an emergency
This burner can be converted to propane and if desired, comes with a propane conversion kit, which includes an air mixer, coupler, and nipple. When installing the burner, make sure it's at least 6" smaller than the inside dimensions of your enclosure, and that the burner ports face upwards. 
 

Aside from Bluetooth hi/lo, there are three other options for ignition depending on your application and preferences: (1) Match Lit, (2) FPPK Push Button and (3) Electronic On/Off.
If you have a fire pit that does not have access to electricity, the FPPK push button start is the way to go. 
The most technologically advanced option is the electronic ignition, with the option to control via a fully integrated mobile app. The fire pit communicates directly with the app allowing you to control everything about the flame from a smart device. Safety is just as important, and the fire pit will also send safety notifications in real time. 

HPC burners come with flame sensing technology for safety. 
They are dedicated to providing high-quality products that meet or exceed safety standards, and they offer a wide range of safety features to ensure that their products are as safe as possible. This includes features such as flame sensing technology, which automatically shuts off the gas supply if the flame is extinguished, and emergency gas shut-off valves for quick and easy gas shut-off in the event of an emergency. Additionally, they provide detailed safety instructions with all of their products to ensure that customers are fully informed and able to safely operate their fire features. With their focus on safety, HPC provides customers with the peace of mind that they can enjoy their outdoor living space with confidence.
How to choose between a Bowl Pan or Flat Pan Insert?
Let's start with bowl style pan, or spun pan. HPC Fire Inspired™ bowl pans are made through a manufacturing style called spinning. Metal spinning does not involve removal of material, as in conventional wood or metal turning, but forming (molding) of sheet material 18ga. 304 stainless steel over an existing shape.
This results in a much more ridged finished product than a flat pan as it has the sides and the lip for added rigidity and does not rely on the burner for rigidity. HPC Fire bowl style pans also incorporate a 1-3/8" lip, or collar that is perfect for a floating installation into an opening.
The bowl style pans are perfect for glass media as well, due to the sides and the cleaner install with the lip of the pan. The bowl pans will not hold water due to the ¼" weep holes in the pans. All of the HPC Fire CSA certified appliances: electronic ignition (EI), push-button flame sense (FPPK), and match-lit (MLFPK) are available with the bowl style pan. 
As you look through bowl style sizing keep in mind that the size of the pan reflects the inside diameter (ID) of the pan, and does not include the 1-3/8" lip.
The flat pans are a little more economical than the bowl style pan, but they do not have a lip for easy installation.
The installer must find a way to support the flat pan within the opening, with support lips, rebar or supports on the sidewall of the opening. Because the flat pans do not have sides or a lip they rely on the burner being mounted to the pan to provide rigidity the pan needs to support the added weight. Any type of media can be used with a flat pan including glass

, but the gap between the edge of the pan and the opening must be within a 1/8" to keep the glass from falling below the pan, so the larger the pieces of media the better for a flat pan. As above, all of our flat pans also have ¼" weep holes to mitigate any water that may stand on the pan. Due to heat from the flame, the flat will deflect a bit as they are burned but this hidden by the media being used over the burner. Each flat pan is cut out to size from a sheet of 18ga. 304 sheet of stainless steel. Keep in mind, all of HPC flat pans are cut ¼" smaller than the listed size. 

For example, our 36" flat pans measure 35-3/4" to help with perfect sizing.
Installation
Believe it or not HPC Fire offers 3D interactive installation instructions via their app.
The HPC BILT app is a valuable tool for anyone looking to install an HPC product, including their popular line of outdoor fire pits and burners. This app uses 3D interactive instructions to walk you through the installation process step-by-step, ensuring that everything is done correctly and safely. It's an excellent resource for those who are new to DIY installation or for anyone who wants to make sure they are doing everything correctly. The app is available for download on both iOS and Android devices and provides clear, easy-to-follow guidance that will make the installation process much smoother and stress-free. With the HPC BILT app, you can be confident that you are installing your HPC product correctly and safely, without any guesswork.
Call or text us at 970-457-6888 for product customization inquiries such as color and configuration
Certain large items incur shipping charges and these are estimated based on delivery zip code. If unclear, reach out via phone / chat.